Setting up wired accessories for Zello
Enabling wired accessories for a network:
The admin must first enable the network to use wired accessories from the management console:
From the Management Console taskbar, select Settings
Select Android from the right sidebar
Under General, select Use specialized wired PTT speaker-mic or headset
Press Save and Apply.
Adding a PTT button to a wired accessory:
Android
Depending on the Android device, you may need to disable Google Play Music under applications to prevent the PTT button from bringing up music. Users can use any of the Zello certified accessories that function as a push-to-talk (PTT) device.
Attach the wired accessory to your mobile device
Tap open the app menu (3 vertical dots) at upper right
Select Options
Select Push-to-talk buttons
Tap Compatible PTT buttons to see your wired accessory
Tap on the accessory name to add to the list of PTT buttons available.
iPhone/iPod/iPad
Although Zello has an option to map the PTT button to a standard Apple headset, it's not always reliable. Zello cannot ensure total control while other apps are running, and the PTT button may sometimes trigger another audio or music app. To prevent this from happening, do not run other music or audio apps in the background while using Zello.
Bluetooth devices are the best way to trigger PTT on iOS devices. See the current list of Zello certified Bluetooth accessories here.
To set up a wired accessory:
Connect the wired headset to your iOS device (iPhone, iPod, iPad)
On the main menu, select Options
Select the Push-to-talk buttons option
Select Add New Device to display Headset Button
Press the center headset button to set it: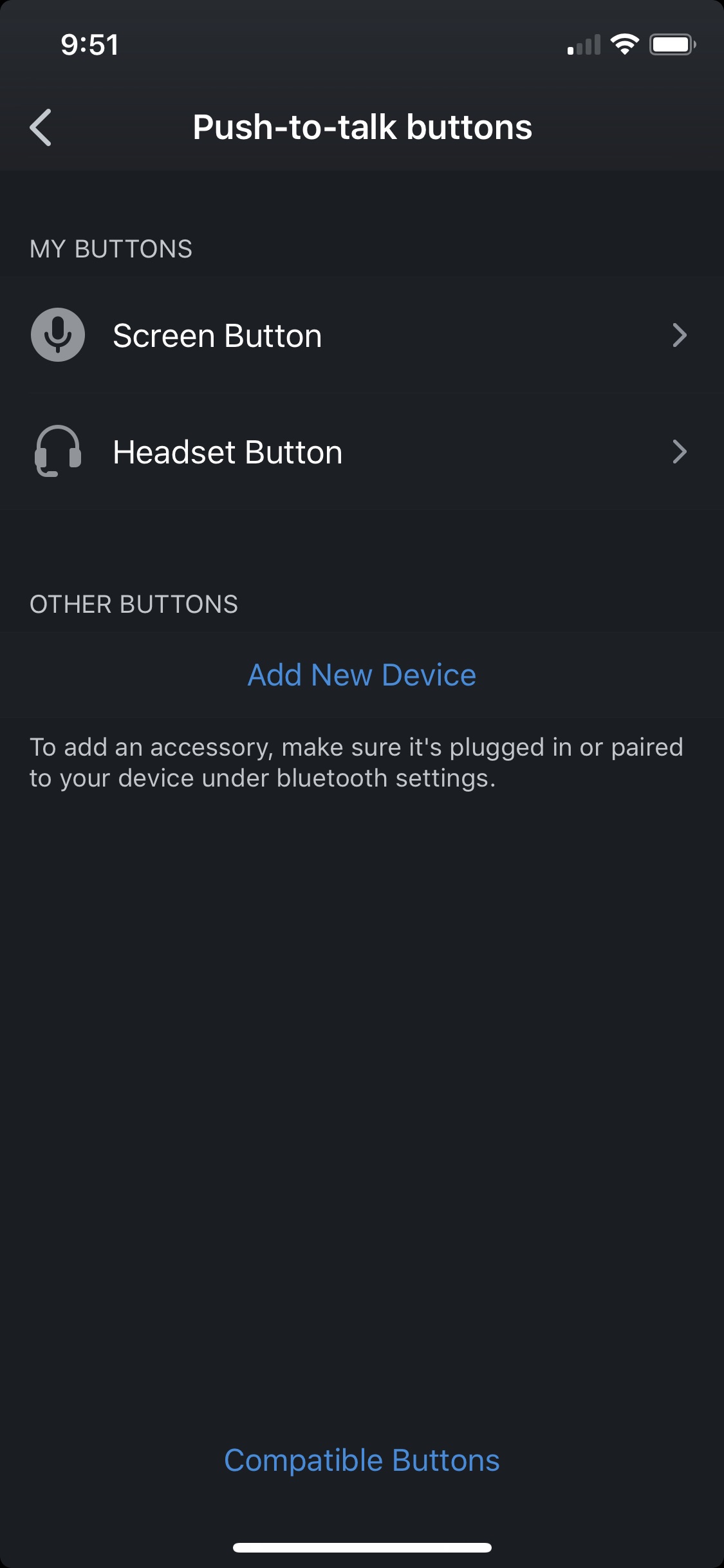 Test the PTT button by using it to send a message to your Echo contact on Zello.
Questions? Contact us or submit a new ticket for support-related inquiries.